myoRESEARCH®
A Unified Measurement & Analysis Software
Seamlessly collect and combine a variety of data in Noraxon's all-in-one software platform, myoRESEARCH. The integration of EMG, force, pressure, 3D motion and high-speed video is complemented by automatic synchronization, simplifying your workflow and providing reliable real-time data. Collection, review, analysis, and reporting is now a streamlined process, even with data from many complex biomechanics recording systems.
Consolidate data without compromising on insights.
One Company • One Software • Limitless Insights
Customize your myoRESEARCH software to support any combination of Noraxon modules to fit your specific measurement needs.
Streamlined User-Friendly Workflow
Boost your productivity with an intuitive interface and streamlined processes that allow for an efficient data collection and analysis workflow.
Setup hardware and measurement configuration settings
Record measurements and use real-time data with visualizations for biofeedback
Manage data and select recordings to review or export
Playback records and alter data with signal processing tools
Communicate calculated metrics and customize layouts to fit your needs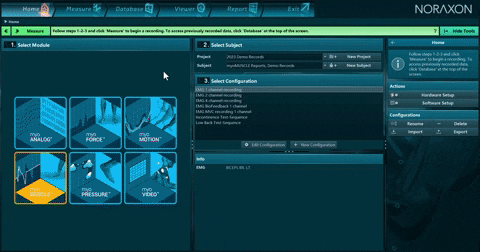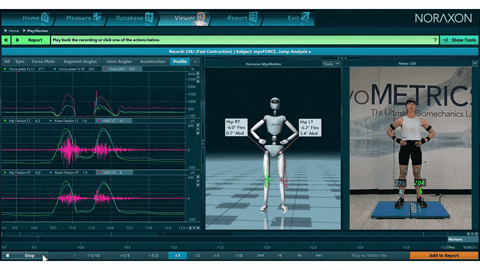 Synchronized & Integrated Tech Ecosystem
Seamlessly connect and integrate multiple measurement devices to eliminate data silos and evaluate human movement completely.
Setup multiple hardware profiles to accommodate different measurement applications
Synchronize any combination of modules to simultaneously record data from EMG & IMU sensors, pressure products, force plates, third party devices, and up to 4 video cameras
Automated & Customizable Reporting
Save time and effort with automated reporting features, while also having the flexibility to customize reports to meet your specific needs.
Over 40 report templates are available to analyze recorded data
All report templates can be customized using simple report editing tools
Compare reports of multiple records to evaluate the differences between measurements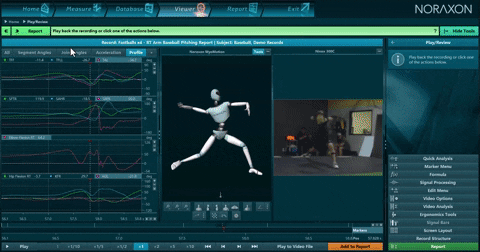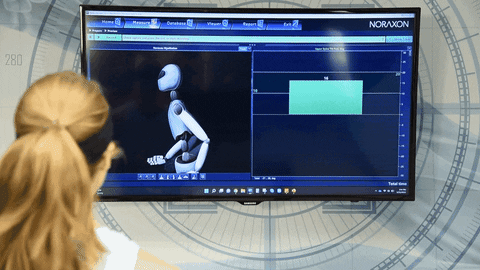 Real-Time Data Visualization & Feedback
Gain instant insights and feedback with real-time data visualization to enhance the effectiveness of your measurements.
Configure biofeedback protocols to interact with real-time data from any integrated hardware device
Drive biofeedback training with auditory and visual cuing by establishing target values or thresholds
Total Data Access & Control
Enjoy complete control over your data with local storage and robust access controls to manage, share, and protect data as needed.
Establish an external storage site for the MR3 database on alternative and portable hard drives or local network servers
Data can be tagged and filtered within the database to show only a specific subset of projects, subjects, or records
Backup, copy, or share recordings using intuitive import/export functions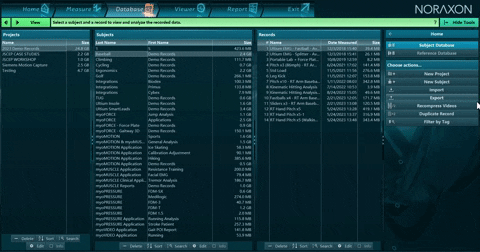 Point-and-Click Signal Processing Tools
Easily process and analyze signals with a user-friendly point-and-click interface that simplifies complex data processing tasks for better efficiency and repeatability.
Apply signal processing routines to data channels before measurement to improve data collection workflow
Save signal processing routines and apply them to multiple records at a time for simplified data processing
Academic License
We offer a complimentary analysis-only version of our software to current MR3 users. Further your education, practice your techniques, and process data outside the lab!
6-month license
Comprehensive signal processing and reporting capability
Access to broad technical support
Maintenance & Support
Make sure you have all of the newest features of myoRESEARCH®. When you subscribe to the Software Maintenance & Support Plan, you're entitled to:
The latest myoRESEARCH® software upgrades

Ongoing software support and training

Admission for 2 to our Annual Users Meeting
Click the buttons below to learn more about
the latest version of myoRESEARCH

.
Ergonomics Toolkit
The myoRESEARCH Ergonomics Toolkit seeks to address the need for a streamlined biomechanics analysis system by providing a solution that is easy to use, accurate, adaptable, and portable through our fully integrated hardware/software package. The Toolkit and our modular platform can accommodate both rapid analysis configurations and comprehensive biomechanical analysis when necessary, including standardized ergonomic analysis tools for the NIOSH Lifting Equation, Static/Dynamic Posture Analysis, and REBA & RULA scoring methods.
3 Sensor Timed Up & Go
The Timed Up & Go (TUG) test is a simple assessment tool used to evaluate an individual's functional mobility and balance. Automatically measure the time it takes to perform the test along with over 40 temporal and kinematic parameters using only three Ultium Motion sensors positioned on the feet and upper spine.
Selectable model optimization routines have been added for enhanced kinematic data cleaning, including:
Adaptive sensor fusion and model stabilization
Foot, shank, thigh, and spine drift correction
Adaptive segment, joint, and contact constraints